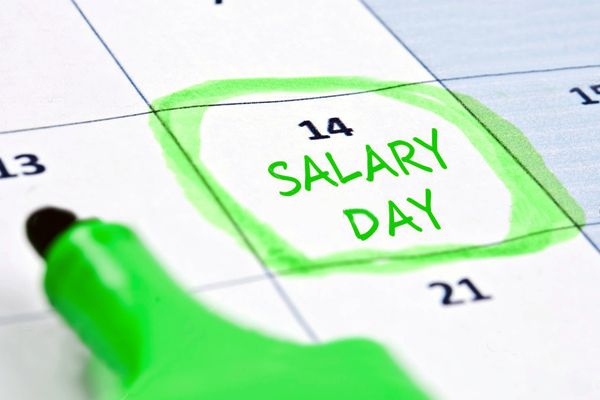 Our team of
EXPERTS AND HR CONSULTANTS
can advise you on your labor and employment needs
Salary Structures and Wages in the Philippines
Aside from professional experience and academic credentials, salary structures and wages in the Philippines are determined by factors such as nature of work, workplace location, working hours, type of industry/sector, and others. The salaries of those working in major cities and business districts are relatively higher compared to those employed in second-tier cities and provincial areas around the country.
Philippine laws, however, grant fair compensations and benefits to all types of employees regardless of differentiating factors such as those previously mentioned. Among these compensations and benefits are minimum wages, the thirteenth-month pay, health and insurance benefits, and holiday pays.
The Department of Labor and Employment (DOLE) and its affiliate agency, the National Wages and Productivity Commission (NWPC), are mandated to enforce the provisions of the Labor Code of the Philippines – which prescribes employment regulations and labor laws for companies operating in the Philippines.
Minimum wage rates in the Philippines vary in every region, with a Regional Tripartite Wages and Productivity Board (RTWPB) in each of them to monitor economic activities and adjust minimum wages based on the region's growth rate, unemployment rate, and other factors. In early 2018, NWPC released an updated summary of regional daily minimum wage rates to serve as a guide for employers on the minimum daily amount legally required for them to pay their employees.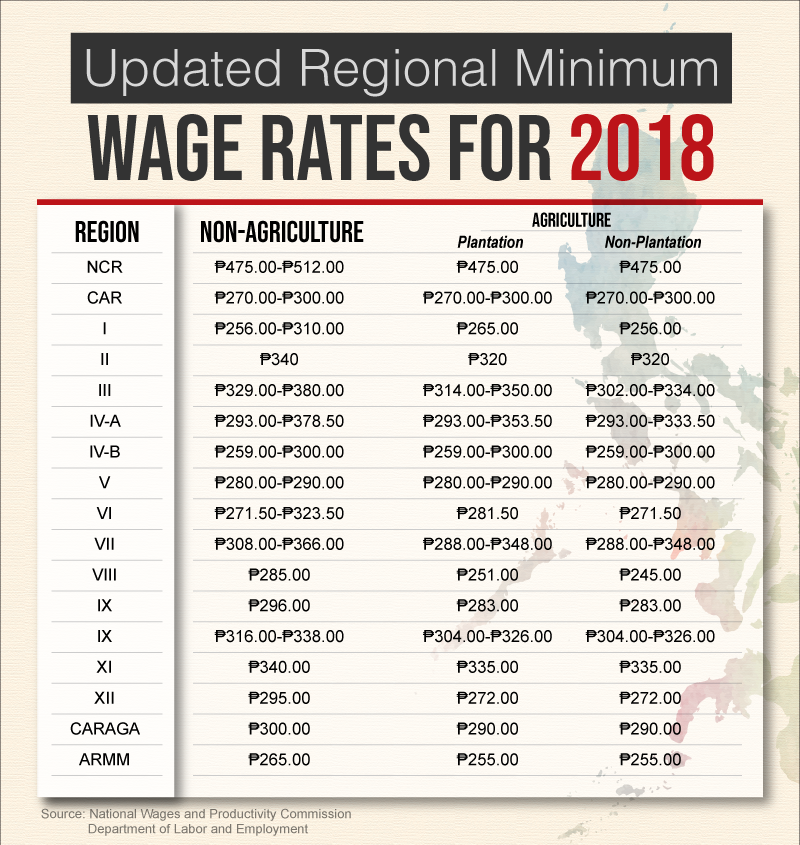 Salary Computation
Computing Pay for Work Done on
A Regular Day (basic daily rate = monthly rate x number of months in a year (12) / total working days in a year)
A Special Day (130% x basic daily rate)
A Special Day, which is also a scheduled Rest Day (150% x basic daily rate)
A Regular Holiday (200% x basic daily rate)
A Regular Holiday, which is also a scheduled Rest Day (260% x basic daily rate)
Computing Night Shift
Ordinary Day (110% x basic hourly rate)
Rest Day and Special Day (143% x hourly rate)
Regular Holiday (220% x hourly rate)
Computing Overtime
On Ordinary Days

Number of hours in excess of 8 hours (125% x hourly rate)

On a Rest Day or Special Day

On a Rest day and Special Day (130% x hourly rate)
Number of hours in excess of 8 hours (169% x hourly rate)
Computing 13th Month Pay
Total basic salary earned for the year exclusive of overtime, holiday, and night shift differential pay divided by 12 = 13thmonth pay
Conditions of Employment and Benefits provided for Employees
Employment Conditions

Normal working hours shall not exceed eight (8) hours a day
Payment of overtime work shall consist of an addition of at least 25% of the regular wage per hour worked or 30% thereof during holidays or rest days
Minimum wage rates for Agricultural and Non-Agricultural lines of work vary in every region and should be properly observed
Minimum age of employment is 18 years old but those aged 15 to 18 can be employed given that they work in non-hazardous environments
In the event of a bankruptcy or liquidation, workers shall be paid their full salary before other creditors may establish any claim to a share in the employer's assets

Mandatory Benefits and Contributions

Companies are mandated by the Labor Code to give their regular employees a 13th month pay equivalent to one (1) month of their annual salary
Service incentive leave of at least 5 days with pay for every year of service
Employees have a right to a weekly rest period of not less than 24 consecutive hours after every 6 consecutive normal work days
Withholding a portion of an employee's monthly salary to remit as contributions to government agencies is a requisite for employers, these agencies are as follows:

Social Security System (SSS)
Home Development Mutual Fund (HDMF)
Philhealth

Provision of holiday pay
Paternity and maternity leave benefits
Stay on top of amendments and updates on Philippine labor laws and regulations
We have unparalleled expertise in providing transparent advice to our clients on how to properly align their benefits and compensation packages with mandatory employee benefits imposed by Philippine labor laws.